Musicians
If an artist homepage is available, the individual name is linked.
Anke Ohnmacht-Döling - Violin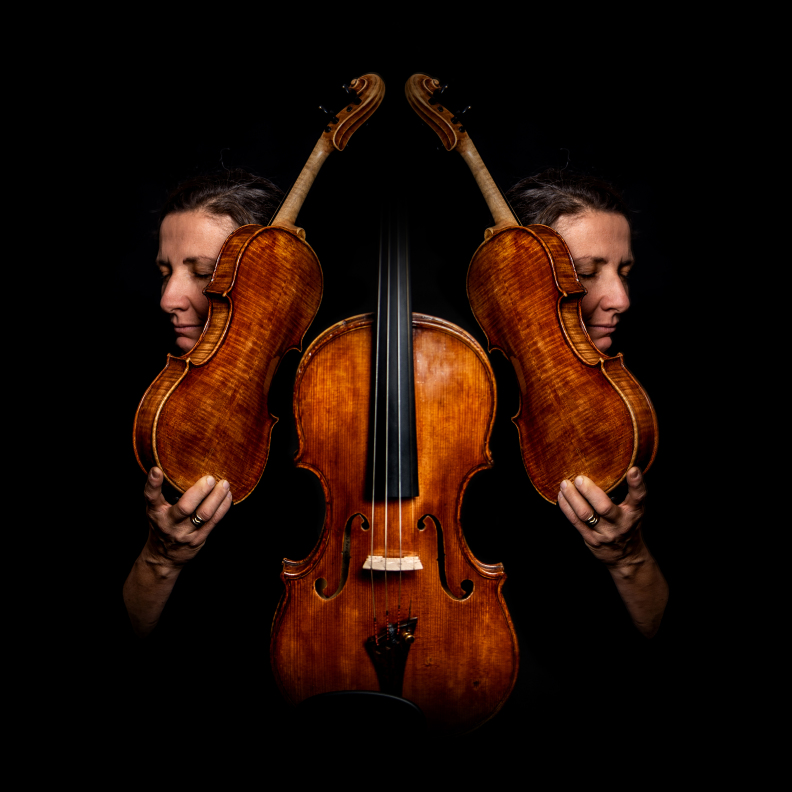 Anke Ohnmacht-Döling received her first violin lessons at the music school in Lahr. After graduating from high school, she studied at the Musikhochschule in Freiburg im Breisgau and with Franco Gulli at Indiana University in Bloomington, USA. Master classes with Winfried Rademacher, Maurizio Fuks, Janos Starker and the Vermeer Quartet completed her education. She is a member of the 1st violins in the Freiburg Philharmonic Orchestra. Chamber music projects repeatedly bring her together with various colleagues in a variety of instrumentations. Portrait photo: Torsten Kollmer
Michael Kiedaisch - Vibraphone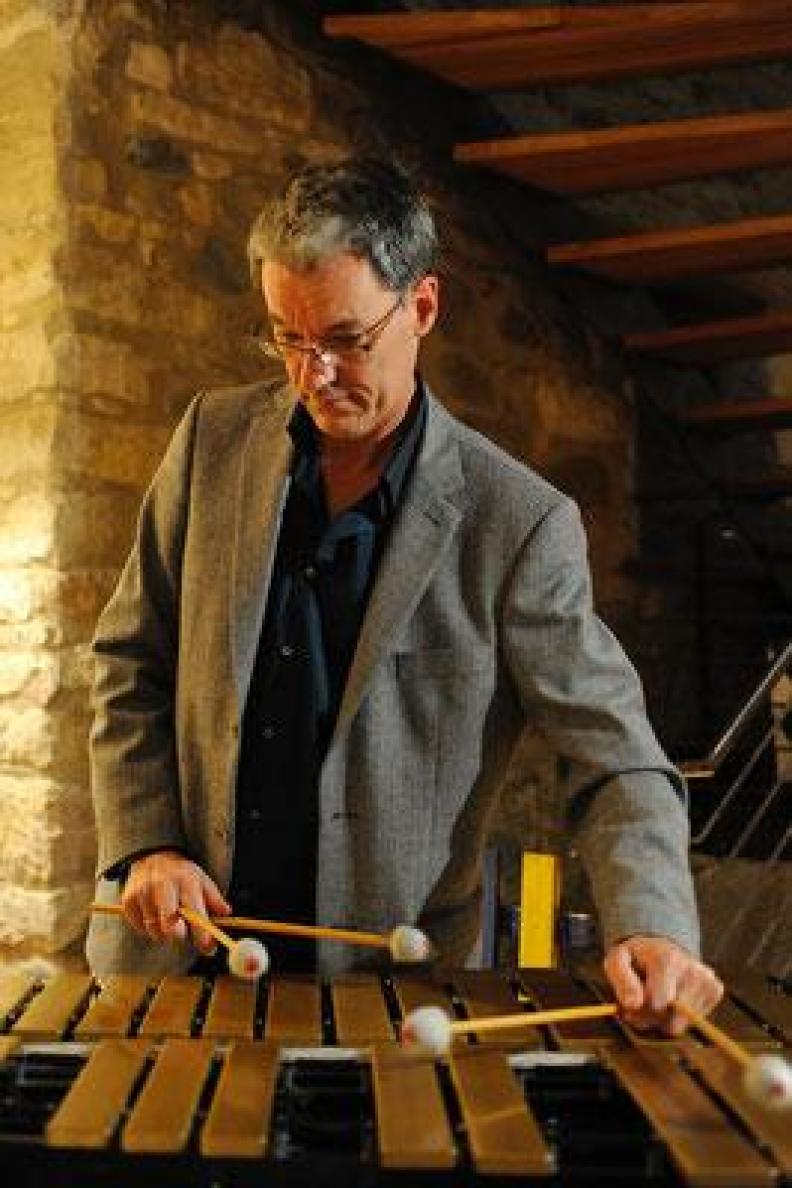 Michael Kiedaisch, musician (studied at the Musikhochschule Stuttgart/D, percussion, marimba, vibraphone, piano) and composer in the areas of interplay between new music, improvised music and jazz. Especially the cooperation with composing improvisers, improvising composers (Markus Stockhausen, Mike Svoboda, Stefano Scodanibbio, Michael Riessler, Scott Roller etc.) shows this. Composer of radio play productions (SR, NDR), music for plays (e.g. Forum Theater Stuttgart, Freilichtspiele Schwäbisch Hall), ballet productions ("Hamlet ruft" with the Ballet Nuremberg, "Bang on it", Ballet at the Nationaltheater Mannheim)
Crossing musical and cultural borders is a central aspect of his work, e.g. with Xu Fengxia, Hayden Chisholm, (Shangyin Ensemble) or Arkady Shilkloper.CD productions with his own projects (Michael Kiedaisch Trieau - Siebensachen, mallets & reeds - nightsongs, Schubertiade, Debussy-Project etc.). ), work with various ensembles (e.g. Open Music, Mike Svoboda Ensemble), studio work and teaching at the Musikhochschule Stuttgart (2000-2014) and the University of Witten/Herdecke (since 2000) complete his field of work.
Florian Döling - Bass
Florian Döling, double and electric bass player, composer, lyricist, arranger, conductor, lecturer and teacher, performs with jazz formations and diverse project formations of all styles. He has released numerous CDs under his own name, but also as a sideman. Since 1990 he has been living in Freiburg, where he performs his compositions in several bands. In 1999 he was awarded the Zelt-Musik-Festival-Preis for his composition and band work. 1999 his first musical "Miausical" was premiered and was the starting point for a continuous composition and libretto work also in this genre. The musicals "Mysterious Church Walls", "Magic Shoes" and "Keep Going" followed.
Recently he has been focusing more on giving concerts as a (double-) bassist. His spectrum ranges from Medival-Jazz in larger line-ups to smaller trio formations (current CD "Reduce to the Max" by the Max Zentawer Trio) and duos with Mike Schweizer (current CD "Conversation in Blue"), Michael Kiedaisch (current CD "New Horizon") and Tilman Günther. Florian Döling has been working as a teacher since 1989. He has been teaching at the music school Offenburg-Ortenau/D since 1991, at the music school Binningen-Bottmingen/CH since 2005 and at the music school Münchenstein/CH since 2014. He is also a teacher at various jazz workshops, gives advanced training for music school teachers and supervises internships for music students of the Jazz Campus Basel and the Music Academy Basel. Portrait photo: Torsten Kollmer
Peter Kleindienst - Gitarre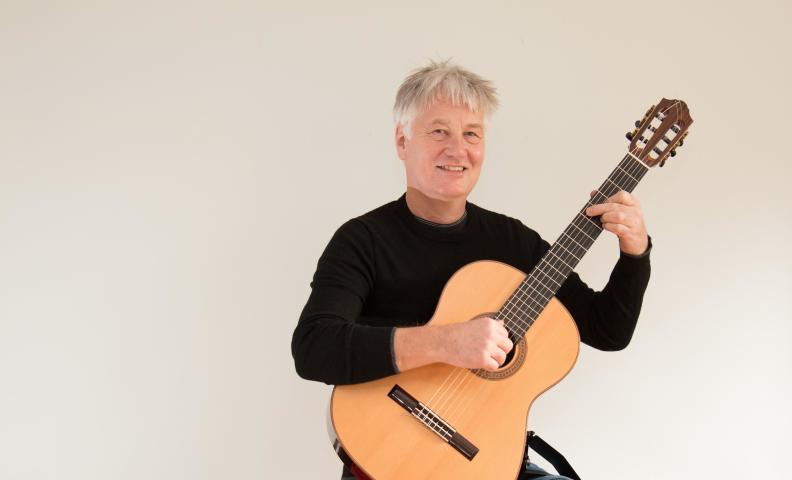 Peter Kleindienst, born in 1959 in Heitersheim, studied classical guitar at the Musikhochschule in Freiburg and at the same time was intensively involved with jazz. In 1990 he founded the new jazz ensemble 'zeitwärts', with which he performs at international festivals. In 1994 he received a music composition commission from the city of Freiburg for the big band 'UpART I.G.' from Freiburg. In the fall of 2001, his spoken-sound game 'Von Sinnen', based on texts by the French philosopher Michel Serres, was premiered at SWR Freiburg. From March to October 2002 he was a scholarship holder at the cultural house 'Zum kleinen Markgräflerhof von 1376°' in Basel. In July 2003 he received the Gustav Mahler Composition Prize of the city of Klagenfurt (A) for his composition 'aus räumen' für Jazz Big Band. In 2007 his first string quartet 'what power art' was premiered by the Pellegrini Quartet in Bludenz(A) and in 2010 the second string quartet 'cagenmusic' by the verus quartet in Basel. In 2010 and 2011 he released 'Malou's Winter Night's Dream' and 'Waldron brings danger', two musical radio plays for children. In 2014 followed his second solo CD, as a result of which he was profiled in the program NOWJazz by SWR2 in 2015. Peter Kleindienst initiated the Freiburg concert series Jazz am Schönberg in 2014 and is a permanent member of the board of curators.
Frank Bockius - Drums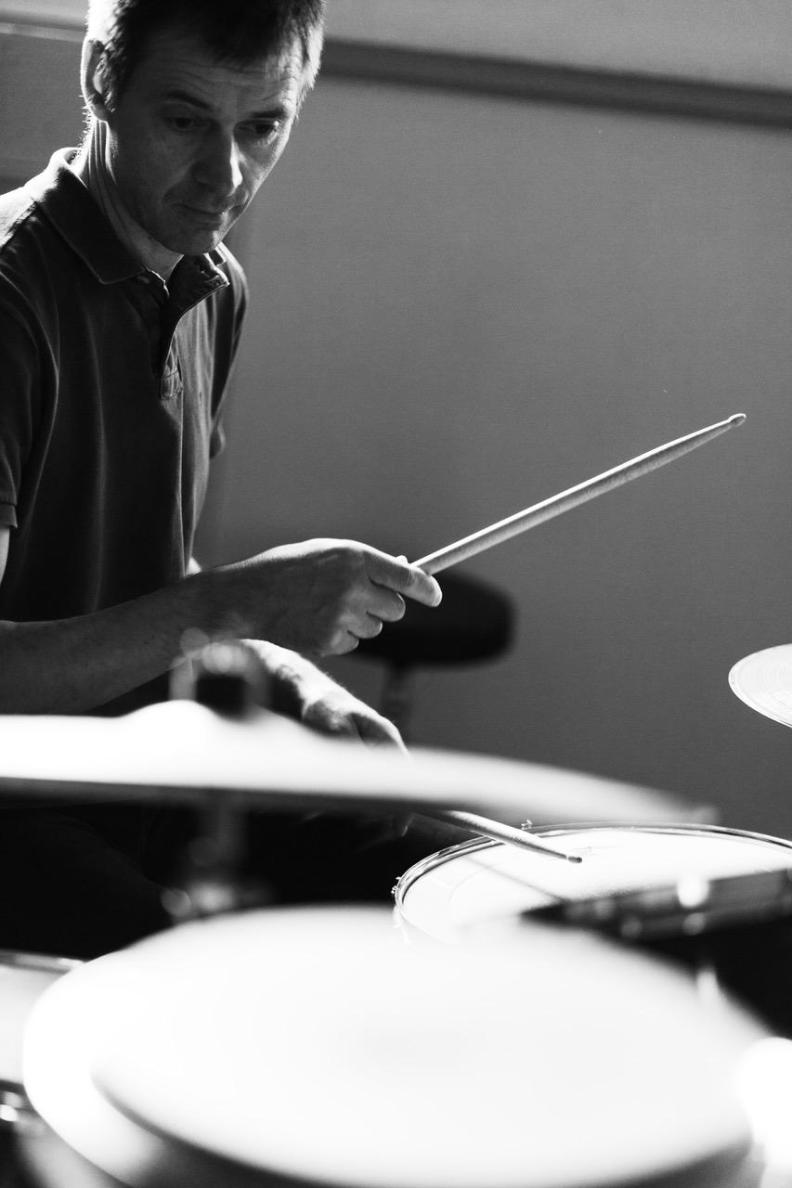 Frank Bockius studied rhythmics at the Musikhochschule Trossingen.
Has since worked as a drum teacher, lecturer at the conservatory and freelance musician.
Longtime collaboration in the jazz quintet `whisper hot` and the percussion band `TIMPANICKS`.
He also worked in the areas of early music, Latin, flamenco, dance theater and music for children.
With Günter Buchwald as well as together with many international colleagues he has accompanied silent movies for years.
Various activities at home and abroad. Jazzfestival Leipzig 92`, Jazz Music Days Cyprus 99`, Filmfestivals Kyoto 01`, since 2001 regularly at the silent film festivals in Pordenone and Bologna, Italy, Sodankylä Finland, London, Paris, San Francisco and others.
Productions at Theater Basel, Freiburg and with SWR.
Petra Gack - Rezitation & Gesang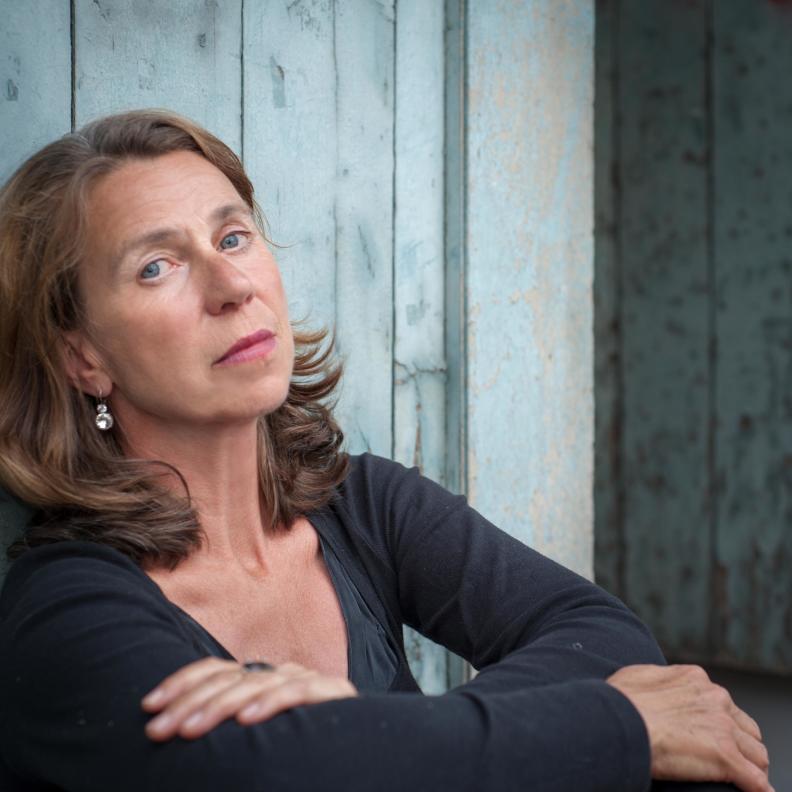 Die gebürtige Heidelbergerin Petra Gack, Schauspielerin und Musikerin, arbeitete vier Jahre am Stadttheater Heidelberg, danach in verschiedenen freien Musiktheaterensembles, bevor sie sich mit drei solistischen Programmen selbständig machte. Sie war als Gastschauspielerin am Freiburger Stadttheater und beim Musiktheater "Die Schönen der Nacht" engagiert. Neben ihren solistischen Programmen ist Petra Gack als Sprecherin beim SWR Stuttgart und Baden-Baden für literarische Sendungen und Hörspiele tätig.
DAS ALTE KLAVIERDEPOT in der Freiburger Altstadt ist ihre eigene Spielstätte für ihre Soloprogramme.
Mike Schweizer - Saxophon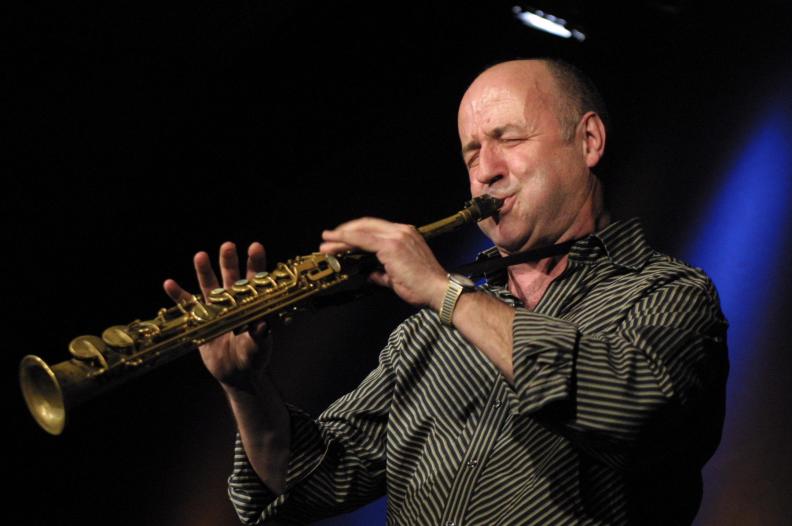 Mike Schweizer ist seit 35 Jahren improvisierender Jazz-, Konzert-, Ballett-, Stummfilm-, Bar-, Tanz-, Hochzeits- und Beerdigungsmusiker und war 16 Jahre lang das musikalische Pendant zu dem verstorbenen Clown Georgo Peugot.
In Freiburg geboren und aufgewachsen und mit Ausnahme einer dreijährigen Studienzeit in Graz immer in Freiburg lebend, ist diese Stadt mit ihrer Vielfalt an kulturellen, sozialen und kirchlichen Institutionen zu seiner Bühne geworden.
Albrecht Haaf - Piano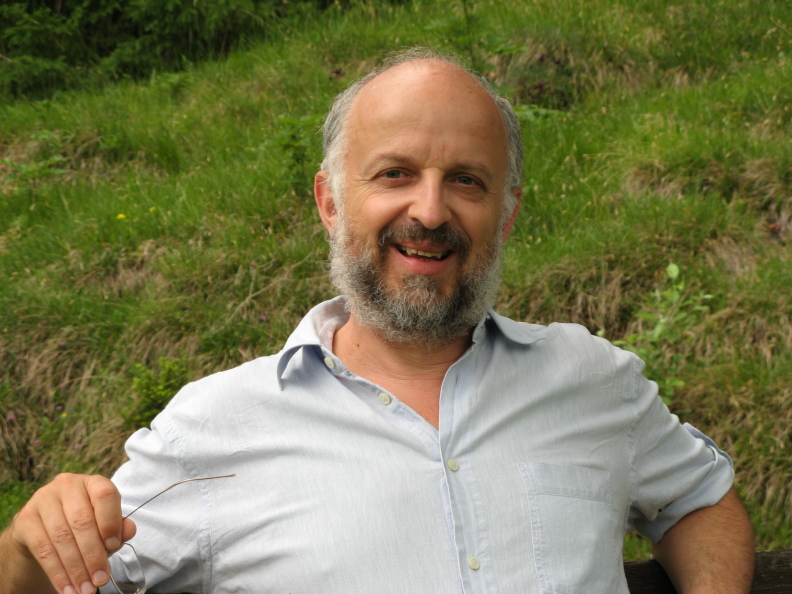 Albrecht Haaf studierte Musik mit Hauptfach Klavier (Nebenfach Blockflöte) an der staatlichen Hochschule für Musik sowie Musikwissenschaft an der Universität in Freiburg. Es folgte ein Aufbaustudium im Fach frühe Musik am Konservatorium in Basel in der Spezialabteilung Schola Cantorum Basiliensis in den Fächern Viola d'arco und Schalmei sowie Musiktheorie des Mittelalters. Er ist Gründer und Leiter des bekannten Ensembles für frühe Musik "Freiburger Spielleyt". Er war für 33 Jahre Leiter der städtischen Musikschule Müllheim.
Sein Interesse an Kompositionstechniken vertiefte er bei dem Freiburger Komponisten Frank Michael in privaten Studien. Er schreibt vorwiegend Werke für Chor a cappella oder für Chor & Instrumente bis hin zur größeren Orchesterbesetzung. Ab dem Jahr 2012 nahm er an zahlreichen Kompositionswettbewerben für Chormusik teil und zählte seitdem mehrfach zu den Preisträgern.Seine Werke erscheinen bei SCHOTT MUSIC international, bei DOBLINGER (Wien), im Möseler-Verlag sowie beim HELBLING-Verlag.
Begleitend zum Musikstudium spielte er in diversen bekannten Freiburger Jazzformationen. Diese Liebe zum zeitgenössischen Jazz hat ihn bis heute begleitet.
Rolf Kilchling - Drums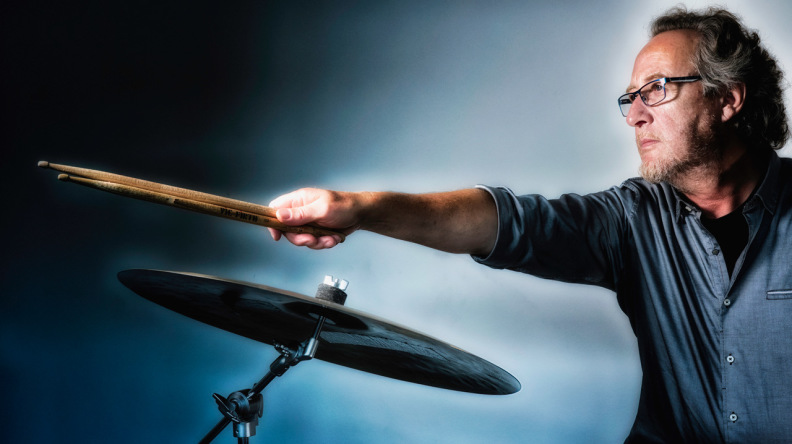 Rolf Kilchling begann als Autodidakt sein Instrument zu erlernen und studierte später bei Billy Brooks an der "Swiss Jazz School" in Bern und bei Gary Chaffee in Boston.
Seit vielen Jahren tritt er mit vielen verschiedenen Formationen der unterschiedlichsten Stilrichtungen im In und Ausland auf.
Neben seiner Tätigkeit als Free Lance Musiker ist er auch als Schlagzeuglehrer an verschieden Schulen in der Umgebung von Freiburg und auch als Privat Drum Coach tätig.
Tilman Günther -Piano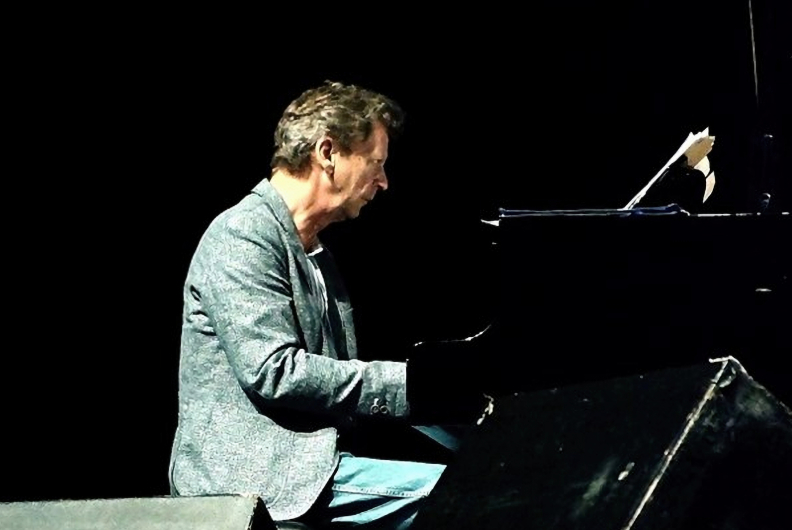 Tilman Günther studierte in München.
Er spielte danach in verschiedenen Formationen wie z.B. dem Stafford James Trio, dem Zipflo Reinhardt Quartett, dem Rainer Pusch Quartett, dem Peter Bockius Quintett etc...
Darüber hinaus diverse Gastspiele in Europa und Asien mit Musikern wie z.B. Herbie Man, Paul Horn, Didier Lockwood, Birelli Lagrene, Silvain Luc, John Schröder, Nigel Kennedy, Philip Cathérine, Bill Elgart, Carla Cook, Dave Peterson, Tony Lakatos, Marcel Papaux, Wolfgang Engstfeld, Joris Dudli, Darek Oleszkiewicz, Gunter Hampel, Janusz Muniak, Leszek Zadlo etc...